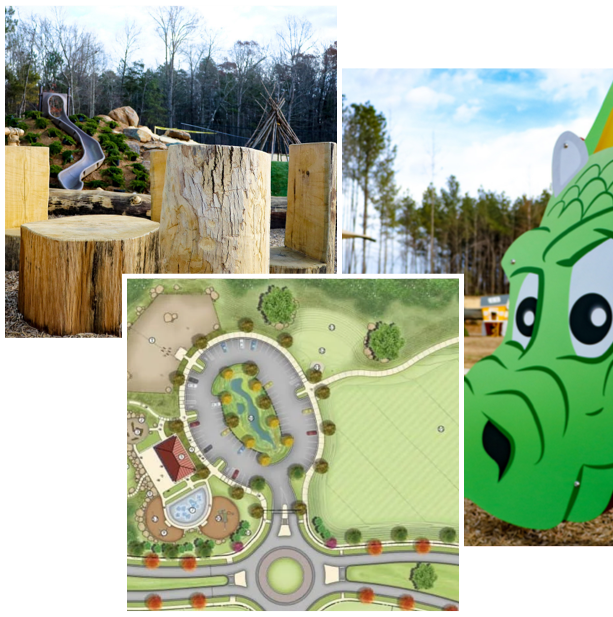 Knight Farm Park
Come Out and Play
The community park is underway, soon to be ready for the kiddos and full of possibilities for imagination, play, and lots of fresh air. Named after longtime Chatham county farmers and residents, the Knight Family, Knight Farm Park is Chatham Park's first community park. The 10-acre park contains a playground, water splash pad, dog park and sports field.
10-ACRE PARK & MILES OF TRAILS
WALKABLE TO DOWNTOWN PITTSBORO
PLANNED PRIVATE POOL
CLOSE TO HAW RIVER AND JORDAN LAKE
THALES ACADEMY
PICKLEBALL
Create Your Own Dream Home
Four custom homebuilders have been hand selected to build 28 single-family homes. Many homes will have a modern design similar to the modern prairie style of the Sales & Information Center at the Vineyards. All can be custom-tailored to your lifestyle and design preferences.
CUSTOM HOMES FROM THE $650s TO THE $XXXs
Prewitt Custom Homes
BUILDING DREAM HOMES FOR OVER 30 YEARS
A resident of the Triangle for more than three decades, Jim Prewitt, of Prewitt Custom Homes, brings his experience and expertise to The Vineyards. Prewitt's commitment to homeowners comes from years of building experience to provide exceptional quality, value and service. Strong relationships provide the firm foundation for building incredible new homes with expert craftsmanship and meticulous attention to detail. Homeowners will see the difference right away when they build with Prewitt Custom Homes.
Upright Builders
BUILDING TRUST, CONSTRUCTING HOMES, ENHANCING LIVES
Founded by Wes Carroll in 1987, Upright Builders has grown their business by building quality custom homes in many of the Triangle's premier neighborhoods. Wes and his team take pride in their attention to detail from the planning stages through construction and beyond. Upright builds on a "solid foundation" of integrity, honesty, knowledge and accountability. They strive to form lasting positive relationships with their clients while maintaining an excellent reputation in the community.
Upton & Company
CUSTOM HOMES WITH AN ELEGANT TOUCH
Since the company's inception in 1980, Upton & Company has built a reputation as a top name in custom home building across the Triangle area. By placing an emphasis on specific architectural details in every step of the process, Upton & Company works alongside homebuyers to bring its exceptional designs to The Vineyards at Chatham Park. Using this "build together" formula, homeowners can trust the superior craftsmanship and high-quality materials selection that has become synonymous with Upton & Company.
Walker DesignBuild
AN ESTABLISHED NAME YOU CAN TRUST
Walker DesignBuild was founded by the father and son team of Randy and Wes Walker. Their hands-on approach to homebuilding includes an open ear to listen closely to homebuyers' ideas and wishes to create unique designs that become some of the best homes in the Triangle area. By establishing an atmosphere of trust, service and personal attention to detail with each and every homeowner, Walker DesignBuild will create exceptional homes that set The Vineyards apart from anywhere else.